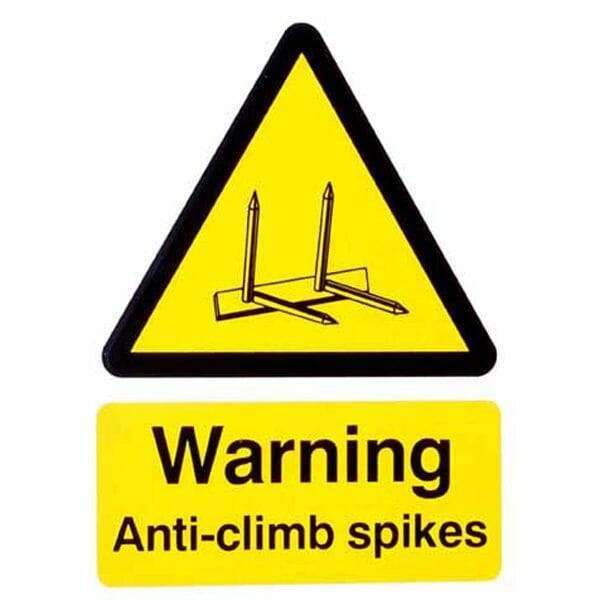 Small Warning Sign – Anti Climb Spikes – HiViz 150 x 100mm – multisaver 10 pack
Quantity
Price
1 - 5
£24.00 Excl. VAT
6 - 10
£22.80 Excl. VAT
11 +

Call us on

01273 475500
Quantity
Price
1 - 5
£28.80 Incl. VAT
6 - 10
£27.36 Incl. VAT
11 +

Call us on

01273 475500
Product code: PS WSACSM10
Small Anti Climb Spikes warning signs in a money saving pack of 10. Remember that its often a legal requirement to present appropriate warning signs when using anti climb spikes.
Manufactured from semi rigid UV stabilised plastic material, these hi-visibility signs with graphics and text measure 150 x 100mm (minimum practical size to meet statutory requirements).

It is generally accepted that warning signs should be displayed in such a way that a sign is visible from any angle of approach to the anti climb barrier. For straight linear installations, it is recommended that signs are displayed at approximately 3 metre intervals on the approach side of the protected boundary fence / wall

Please note: The display of Warning Signs may be a legal requirement for use with Anti Climb Spikes and should always be displayed where anti climb spikes are used at non domestic premises / locations.